The 7th Annual 'Vanilla' Level Design Contest

2014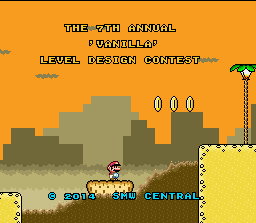 Download VLDC 2014 (2014)
Download Mirror

Difficulty Level: Medium
Playable stages: 86
Hack Status: 100% Complete
Original Game: Super Mario World (SNES)
Background Information:
For the past seven years, SMW Central has held a vanilla level design contest every spring. "Vanilla level design" refers to using only Lunar Magic to create your level - that is, no custom blocks, no custom sprites, and no custom code of any sort. They eventually began allowing people to use custom music, but this is not factored into their score. Once they finished designing their level, they would submit an IPS file, it would get judged + ranked, and that would be the end of it. This year, however, S.N.N. decided to assign resources (secondary exits, Map16 slots, etc) to users with the intention of putting all of their levels into a ROM and essentially creating a full hack out of it.
| | | |
| --- | --- | --- |
| | | |

The hack features 82 submitted entries and 4 switch palaces, which makes a grand total of 86 levels for you to beat. All of the levels are open from the start - you can play them in any order you'd like. To help you keep track of your progress, the game autosaves on the world map and beating a level will give you an "M" in the top right corner of the overworld. As a disclaimer, I should note that the levels are organized on the overworld by theme, and not by ranking. This means that the quality of the levels might fluctuate dramatically from one to the next (e.g. having a 70th place entry directly before a 12th place entry). The bottom 8 and top 8 each have their own world, however, so it's easy to distinguish them from the rest.